Many students and francophile friends ask me about what it was like to go to La Sorbonne. For that reason, I decided to write an article about my university years in Paris! I'll tell you my story of living in la Ville Lumière (EN: the City of Lights) and my experience of following courses in one of the most famous French schools in the world.
Some Facts about La Sorbonne
It's Actually a Group of Schools
First of all, I want to say that Les Sorbonne would be a better name for this big group of universities in Paris. The institution is organized in different facilities known as Paris I (« un »), Paris II (« deux »), Paris III (« trois »), Paris IV (« quatre ») and so on up to Paris VIII (« huit »). Each school specializes in something, so people who want to get a law degree apply to Paris II, aspiring doctors go to the medical faculty of Paris VI, and would-be philosophers go to Paris I. As for me, I first completed a dual Bachelor's degree in Philosophy and English at Paris I. After that, I earned my Master's degree in Linguistics and Language Education at Paris IV.
Where in Paris are the Schools Located?
Paris I is in the city center. So as I completed my Bachelor's degree, I was only a five-minute walk from the Pantheon. I remember visiting the tomb of Victor Hugo at lunch break and eating my jambon-beurre sandwich with classmates on those iconic sage-green chairs of the Jardin du Luxembourg where the famous author Jean-Paul Sartre used to play as a child. Not all Sorbonne schools were that central, though. For instance, my roommate's campus was on the other side of Paris — a good two hours commute every day. During my Master's degree, it was my turn to be a pendulaire (a commuter). I spent a ridiculous amount of time in the metro between my classes, which were scattered to the four corners of Paris.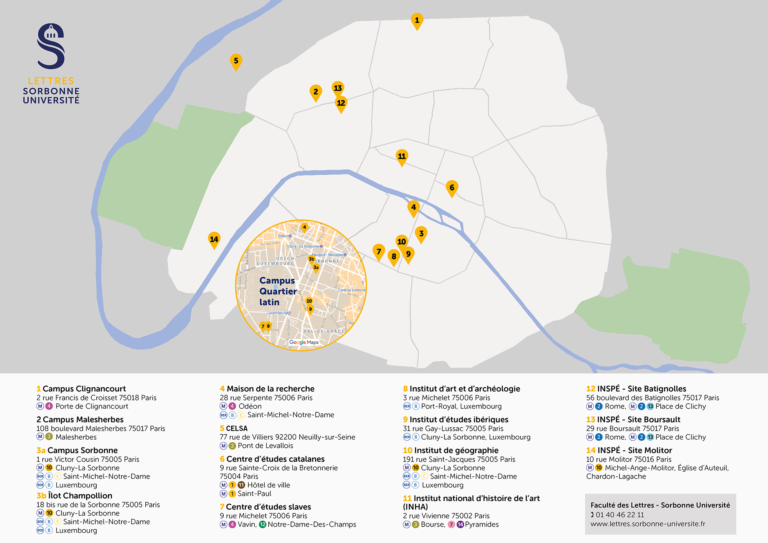 What Were the Academics Like?
Getting my Dual Bachelor's Degree
Philosophy Major
Compared to the very competitive classe prépa, my university courses seemed easy. As a part of my philosophy degree, I completed courses in political philosophy, studying the Contrat Social by Jean-Jacques Rousseau, analyzing some works by David Hume, and the eminent Federalist Papers. There were also courses on moral philosophy with readings and essay writing about Emmanuel Kant's Fondements de la Métaphysique Morale. And surprisingly, we studied the philosophy of language a lot. 
Are you familiar with the notion that our language shapes the way we think? This idea originates in the work of the scientist and philosopher Wilhelm von Humboldt, and during class, we extensively discussed his opinions as well as the opinions of his intellectual adversaries. Another memorable read from my philosophy of language course was that of Ferdinand de Saussure and his Linguistique Générale, which explores the concept of language as a system of signs. I passionately studied those topics, but still, I couldn't get enough.
English Literature Major
Because I was a double major, I completed my English literature in parallel to my Philosophy curriculum. Version was an entire course dedicated to translating from our target language, English to our mother tongue, French. Thème was the opposite, in which we focused on writing translations from French to English. I have fond memories of translating excerpts of novels by contemporary authors Daniel Pennac, Delphine de Vigan, Neil Gaiman, and John Irving among others, as well as writers from past centuries such as Lewis Carroll and Joseph Konrad. Our teachers were successful writers and brilliant linguists. Some of my classmates hoped to become professional translators themselves. Other courses included Phonétique where we learned English systems of pronunciation and Civilisation Américaine where we studied some aspects of the United States political culture.
🌻Vacances d'été 🧳 Summer Break 
Most students would go outside of the city during summer break and I did the same. There was time with my family in the Loire Valley. Hours on the TGV train. Reading lots of books. One summer, we went on a week-long hike with friends in the French Pyrénées mountains. The next summer, we did a similar hike in the region of Auvergne and the Massif Central. You want to see these regions of France if you love nature! During summer, I also had a summer job in an organic farm in Switzerland, picking cherries and peas during the daytime, learning German with my Méthode Assimil Allemand in the evening. Dinners with the 85-year-old Schweighauser couple who owned the farm left me with the fondest memories ever! Then there was hours on the train to get back to Paris and school started again.
Getting my Master's Degree
So I was back in Paris and ready to do my year of Master's degree in Linguistics and Language Education. Our curriculum included courses of Phonetics, Phonology, Curriculum Design, and Teaching French as a Foreign Language. The latter one was my favorite class. Our teacher had so much good advice and stories to tell! I was particularly excited about the new forms of pedagogy applied to digital innovations. At the end of the school year, I was selected by the European Erasmus for Young Entrepreneurs program. I got a position as a teacher's assistant in the Alvar Aalto University in Helsinki, Finland. In parallel to that, I worked with a language education technology start-up. With my diploma in hand, I was ready to step out into the real world!
Was Studying There Worth it?
There were some downsides to being a Sorbonne student. Read about them in my article Dark Corners in the City of Lights. Still, as Edith Piaf sings, 🎼Non, rien de rien. Non, je ne regrette rien ! I have no regrets about my university years. They were definitely worth it! My Sorbonne diploma opened many doors for me, like joining the prestigious Alvar Aalto University in Finland. Studying in a French university was worth it from a financial standpoint also. In fact, with tuition that was €500 per year, I graduated without a cent of student debt. This was in addition to my immersion in Parisian life. Read my article How was Life in Paris as a Student? to know everything about my experience living in the buzzing capital of France.
How It Helped Me Become a Better Teacher
I think that my university education trained me to be a good teacher. Even today, the knowledge that I acquired informs my teaching. Our expert phonology teacher gave us the tools to help with accent correction. My literature translation classes forced me to acquire a vast amount of English vocabulary. This solid bilingual vocabulary enables me to keep up with most people's train of thought and help them translate them to French without breaking the flow. This has some limits though because when I arrived in the United States I've realized that most of the vocabulary that we learn in French universities is British-English and so I have had to make some efforts in order to keep up with the American-English lexicon. Finally, graduating from La Sorbonne helped me because I was surrounded by the best linguists and educators around, and that made a lasting impact on my teaching.
Découvrir plus 
Que sont les classes prépa ?