French Learners,
Feel Like Home!
2021 Nouvelles
If you're looking for The Staircase French learning method, you're in the right place. Vous êtes au bon endroit ! The method created in 2016 and recommended by my friend and polyglot Benny Lewis is now available in a new format! The previous website was discontinued and French learners can now enjoy the easier format of a podcast and a companion book. Contact me, Léa, if you have any question, and keep learning French — continuez le français !
A French learning story. Audio + companion book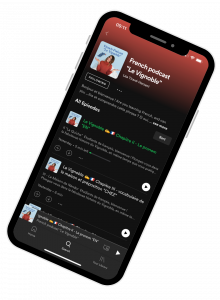 Bienvenue !
Welcome to my website, bienvenue 😀  My name is Léa and I'm a French teacher. Since 2013 and today in 2021 you can learn French with me through my podcast and companion book Le Vignoble, based on the Staircase method. You can also meet me every week for private lessons by video. Wherever you come from, « d'où que vous veniez » and whatever your motivation for learning French, « et quelque soit votre raison d'apprendre le français » I'll be happy to meet you. « Ca me fera plaisir ! » A few great language pedagogues inspire me everyday. They're Michel Thomas, Olly Richards and many enthusiastic language teachers who I was lucky to learn with during school years. Last but not least, my greatest inspiration is my students themselves!

As

a teacher my mission is to help students feel more at home in the French language. As we say, « 

Ma Langue est ma Patrie » (my language is my homeland). If you choose to learn with me, I'll do my best to help you feel at home, « à la maison » when communicating in French.
All levels welcome
More than 7,000 hours of lessons taught
Expect a lot of exposure to French culture — music, movies, and the latest trends.
Get good pronunciation, empowering grammar and rich vocabulary
Homework
Focus, fun and progress!
Blog articles about language learning 🇯🇵
Sens des mots français — Et si le genre comptait ? « Why on earth does French have genders? » Bonne question ! Les étudiants me la
Read More »